STRIKE A POSE WITH YOGA REBEL TARA STILES
AT W RETREAT & SPA SEMINYAK
From 12-14 September, Yoga Rebel, Tara Stiles, will join the W RETREAT & SPA BALI –SEMINYAK for the FIT with Tara Stiles Yoga Retreat.
New York based, Tara is the founder and owner of 'Strala', a yoga movement that ignites freedom. The
flagship studio is located in SOHO, NYC, with several partner studios opening globally this year.
She's been labeled "the coolest yoga instructor ever" by Vanity Fair and her Strala philosophy flips
the traditional idea of fitness on its head with a non-traditional approach to working out while on the
road. Strala is designed to benefit busy professionals, frequent travellers and party people, with a range
of movements to help counter-act modern day ailments such as stress, jet lag and even a hangover.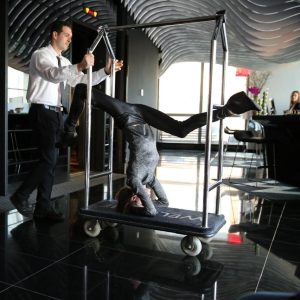 At the FIT with Tara Stiles Yoga Retreat guests will experience her exclusive fitness program.
Following a sunrise yoga class, yo will enjoy customised treatments at the AWAY Spa, specially
crafted to relieve muscle tension and improve blood circulation. The weekend is complemented with
organic menus designed by Tara that suit a hectic lifestyle.
As part of FIT with Tara Stiles, the W BALI will host a large-scale, ticketed 'FIT with Tara Stiles'
Sunset Yoga Session. From 5.30pm, Saturday 13 September, over 250 yoga enthusiasts are invited
join Tara for an unforgettable 90-minute Strala class by the beach and receive their own yoga mat.
Following the group yoga session, Tara will collaborate with her favourite music partner, Josep Xorto
(Barcelona, Spain) who will spin tunes at WOOBAR, where participants receive a cocktail, designed
exclusively by Tara, including citrus vodka, orange liquor, fresh watermelon juice, raspberries,
passionfruit, apple juice and lime sorbet.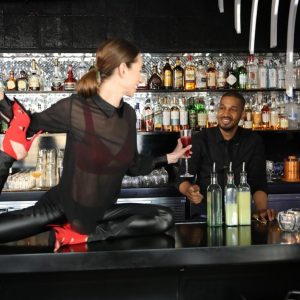 Tara's visit coincides with the launch of the W Hotels Worldwide first ever fitness program, FIT with
Tara Stiles, which will be available via the televisions in rooms at all 45 of the W brand's cutting-edge
hotels and resorts around the world.
FIT with Tara Stiles will allow guests of W Hotels to experience a curated in-room workout video
designed for the needs of the W traveller, in-room tip cards with quick fixes to get camera-ready in a
flash, allowing guests to polish their body and mindset in a uniquely 'W' way.
The FIT with Tara Stiles Yoga Retreat at W BALI will be held from 12 – 14 September 2014. The two night package includes accommodation, cocktails and meals curated by Tara, yoga, spa treatments and activities starting for USD 675++ per night.
The sunset yoga session will be held on Saturday 13 September from 5.30pm and is included for all
guests of the FIT with Tara Stiles Yoga Retreat. The class is open to other W guests and locals and is
priced at USD$50, inclusive of the 90-minute Strala class, a yoga mat and a cocktail at WOOBAR.
To book and for more information visit www.whotels.com/fitwithtarastiles
For more information on W Retreat & Spa Bali – Seminyak, please visit www.wretreatbali.com Follow @WBali on
Twitter and @WBaliSeminyak on Instagram