Best rooftop bars in Bali
Bali does not have the highest rooftop bar in the world. Not the second highest either. Not the third and probably not even the 103rd highest one. It would be a lot to ask for since buildings in Bali are not allowed to be higher than the palm trees and certain temples. But why would you want to get any higher than that? There are no skylines or sky scrapers to watch from up above, instead miles of beautiful nature and ocean. And there are some great rooftop bars on Bali where you can mix atmosphere with nice cocktails and panoramic views of the amazing scenery.
The crew behind The Rooftop Guide have during the last couple of years been to more than 500 rooftop bars around the world. Here's a list of their 5 favorite ones on Bali. And if you want more, here's where you can find all rooftop bars in Bali.
Jim'bar'N Rooftop
The highest rooftop bar in Bali, located five floors up on the Jimbaran View Hotel. Here you get an amazing 360 degree view of Bali and the ocean. Quite large terrace, nicely decorated and with both lounge sofas and regular chairs to take a seat in. Here you can just relax and enjoy some nice cocktails or have a romantic dinner watching the spectacular sunset.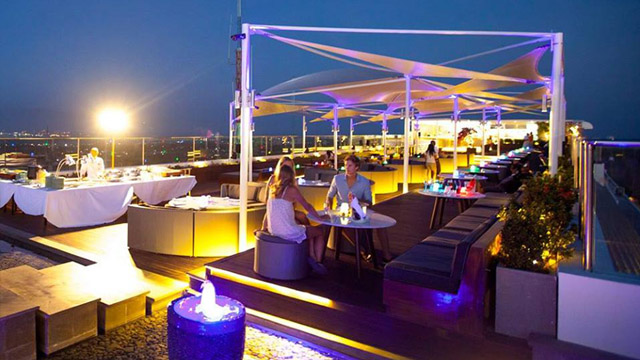 Single Fin Bar
As the name suggests, this rooftop bar has a surfing feel to it. The view from the balcony-like terrace is straight out to the Indian Ocean (and probably to some surfers trying to catch a wave). Apart from the beautiful views this rooftop provides a laid back atmosphere, a large mix of great cocktails and drinks, nice food and music from DJ's or live acts.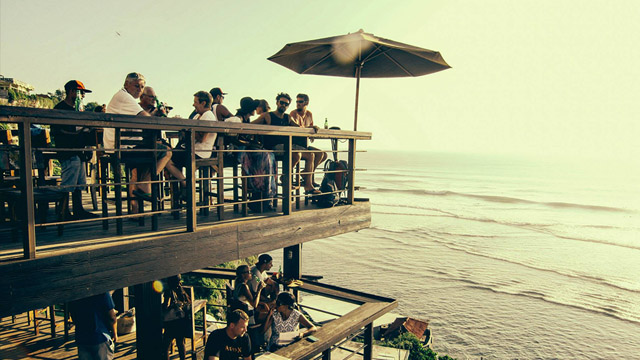 Double-Six Rooftop
On top of Double-Six Luxury Hotel you find one of the world's largest rooftop bar, measuring a bit over 1 700 square meters. And your selections here are almost as wide as the terrace itself. Order some drinks, take a seat in one of the "floating" pods and just enjoy the magical views of the ocean. Or maybe get something from the fire pit grill. Or have a gourmet dinner in the restaurant. Or get some vibes going with the tunes from the DJ. Or just enjoy a movie at the rooftop cinema. The possibilities here are almost endless.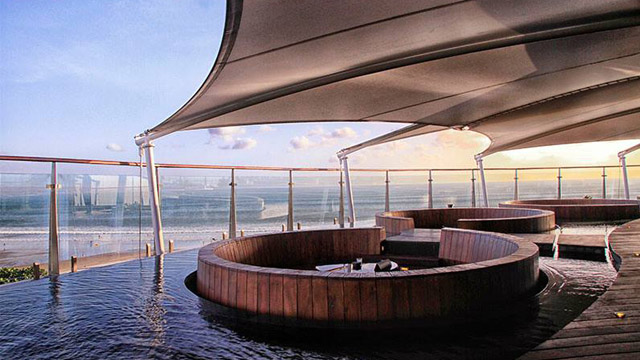 UNIQUE Rooftop Bar
This really stylish rooftop bar is located on top of Rimba Hotel and offers amazing views of Uluwatu Hills in the southeast and the sunset over the Indian Ocean in the west. There is a really cool 25 meter infinity-edge pool here, perfect for some cooling of during the day. At night there is a sophisticated and relaxed lounge-vibe, and you can enjoy some really nice and creative cocktails along with Mexican food and international music.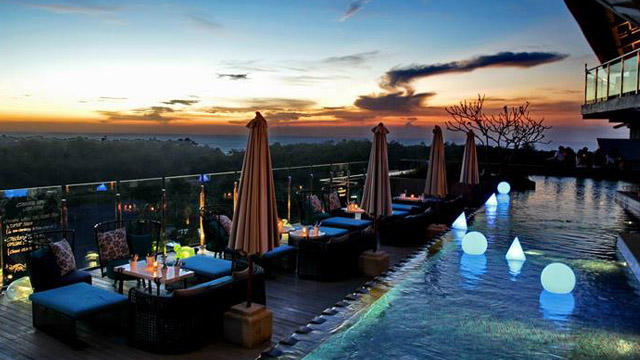 VH Bali 
At VH Bali you probably get the best sunset view of Kuta and Kuta Beach. Located on the 3rd floor of the Beachwalk Mall, and here you can enjoy tasty beverages and a mix of European and Asian food from lunch to late evening. When late evening turns into night this is also one of the best places for a party in Bali, with famous DJ's getting the club atmosphere to a max.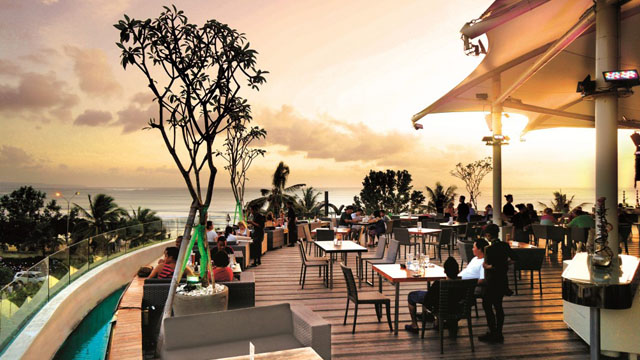 Brought to you by: The Rooftop Guide