Looking for somewhere less crowded where I can lay back and relax poolside I welcome with open arms the new kid on the Canggu Block, Lv8 Resort.
Arriving at then newly opened resort was a wonderful experience as we are greeted by the team with huge smiles who were awaiting our every need and taken straight to our room.
We were taken to our room which was the Studio Suite but not like you would normally imagine when I say Studio. It was and Ocean Facing Pool Suite that gave us access front and back which gave a feeling that we weren't in a hotel room at all. Love that!
At this time of the afternoon at  'High Tea' was being served in the Ning Lounge and if you follow my Bali adventures you would come to learn that I am all about a High Tea and this one was not like the norm of traditional. It was served on a classy modern tier with some of the most detailed of sandwiches and sweets. Even the boy was happy. Very full but very happy. LV8 you are winning me over.
Straight back to our little abode now for an in-room massage. How could you complain about being pampered beside your own pool with the seabreeze ever so slightly blowing across your skin? Seriously, this was magic. Now with a quick soak in the tub that was filled with oils and rose petals we are off to explore.
Not far from the room we were now at 'Vue Beach Club' (still part of the hotel). It was amazing. the pool itself must be atleast 30metres long and sitting on Canggu Beach surrounded by deck chairs, cabana's with some pretty cool tunes to help you feel as though you could actually be in Ibiza. Not that I have been to Ibiza but I imagine it would feel a little something like this. I do have a good imagination though…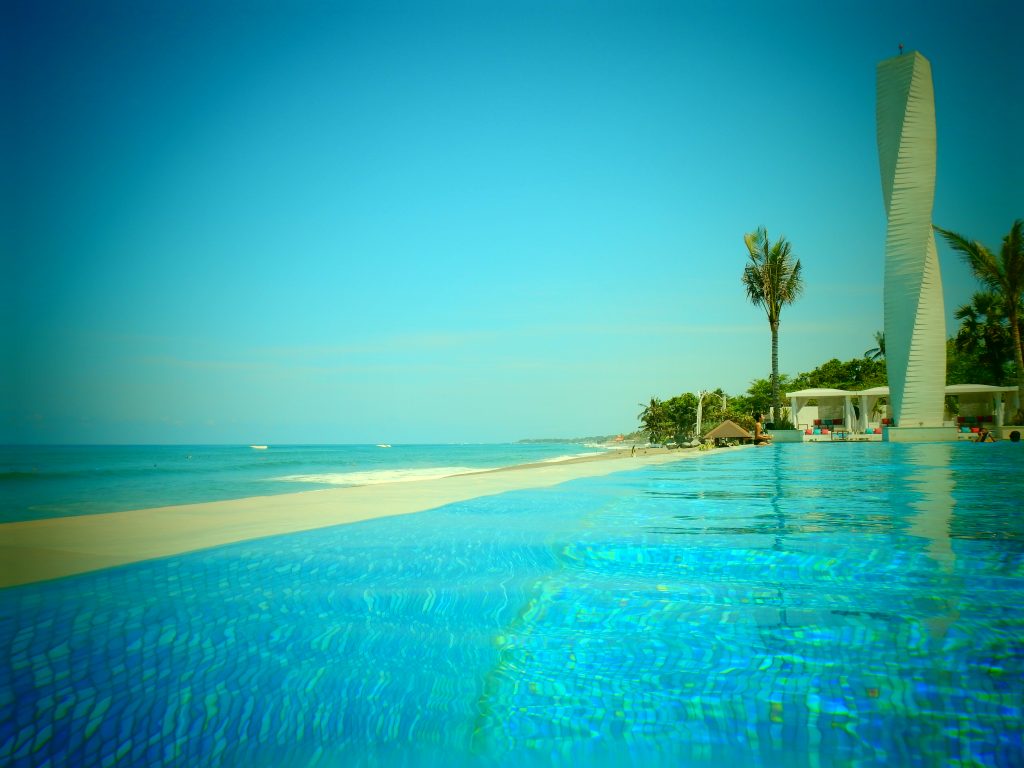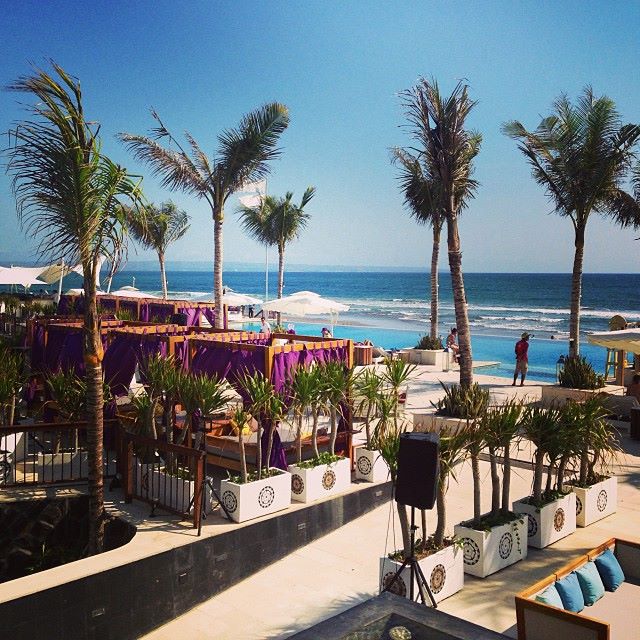 PAUSE… that was me taking a moment to relax by the pool with a cocktail. Ok maybe a few cocktails and a little nap prior to dinner at the hotel's 'Eight Restaurant'.
Now thankfully one of us left a little room for this 3 course feast. The setting is quite modern with a menu of  contemporary flavours from all across the globe to suit every patron that dines here. The staff were amazing as they were able to recommend the best picks too as some off the menu items I had never seen or heard of before. Maybe I don't get out enough lol. It was a great night with wonderful food and wonderful staff with whom we had numerous laughs. So now it's off for the biggest nap of all.
OMG!OMG! I have woken up and totally forgot I have a surf lesson booked and I am 15 minutes late!
I arrived a bit out of sorts from those few drinkies but all good said Aiden, the Instructor for Ripcurls School of Surf Canggu. It didn't take me more than a minute to get there as they are part of the hotel. Phew.
With a short walk to the beach Aiden has given me a few of the basics before leading me out into the surf and although it has been quite sometime for me on a surfboard I am pretty proud of myself for giving it a go and if I had more time with Aiden i am sure I could have been ripping like a pro…not.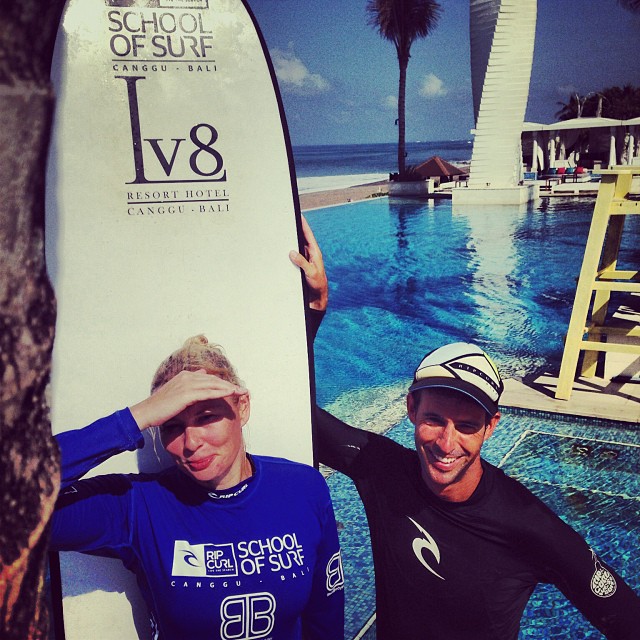 Morning surf now done I head for breakfast like any surfer would before taking on the day shopping in the surrounding area of Seminyak and finishing of with a quick Pedicure and Manicure at Think Pink Nails as I have a date when i get back.
A date with my man and a Sunset Dinner in our own private Poolside Cabana in Vue Beach Club overlooking the Indian Ocean. What can I say…he's a romantic.
As the sun went down the curtains were drawn and the candles were lit making this one of the highlights on this trip. I was in awe of this magnificent Bali sunset and with a few courses of food complimented by wine I was more than happy to just sit and contemplate life with my partner. Amazing!
Waking early this time for our final day we did nothing more than chill by the pool. A few swims, some lunch on the deck chairs and we were off. Off for our next adventure. I will just say that we will certainly be returning and you will definitely find me once again poolside.
This is one hotel and beach club is one to watch!
Thankyou LV8. You have been great hosts. x