IT'S been 12 years since I've travelled to Bali and that was as a Schoolie. Pool cocktails at 6am and getting your hair plaited was de rigueur. This was pre-Bali bombing and Kuta was the happening place. It was where all the bars, nightclubs, restaurants, markets and boutiques were.
Day trips exploring Kuta's surrounds were spent walking quiet streets lined with humble abodes and small, cheap art shops. So it is with slight trepidation and a lot of journalistic curiosity that I return on Jetstar's new Dreamliner flight from Melbourne to Denpasar.
Tourism to this little Indonesian island is booming and the introduction of the Dreamliner service is just one step in a long line to cash in on it all.
As soon as I disembark from the plane I'm faced with the first of many changes in Bali – the airport's new international terminal. The old domestic terminal is now used for cargo transport, while domestic travel has been moved into the old international hall. The new international terminal opened at the end of last year but is yet to be fitted with shops and cafes. It was built to cater for the more than 1.7 million international tourists who visit Bali every year, the biggest proportion of whom are Australian.
According to The Bali Times, Australia is the biggest tourist market for the island, making up about a quarter of tourist arrivals between January and July in 2013.
As I leave the airport, I look out at a busy street from an air-conditioned mini-van. Cars and motorbikes honk at each other, just like they always have and like they often do in cities across Asia.
The quiet only comes when we leave the busy road and arrive at the four-star Semara Resort and Spa, my home for the next few nights.
We're in the heart of Seminyak's shopping and dining district, and as the southern suburb was barely a dot on the map during my last visit, I'm perfectly placed to see just how much has changed. My travel companions are ecstatic to find we're staying next door to Potato Head Beach Club. The club has a bar, three restaurants and beachfront pool and wouldn't be out of place on the Gold Coast, with prices rumoured to match.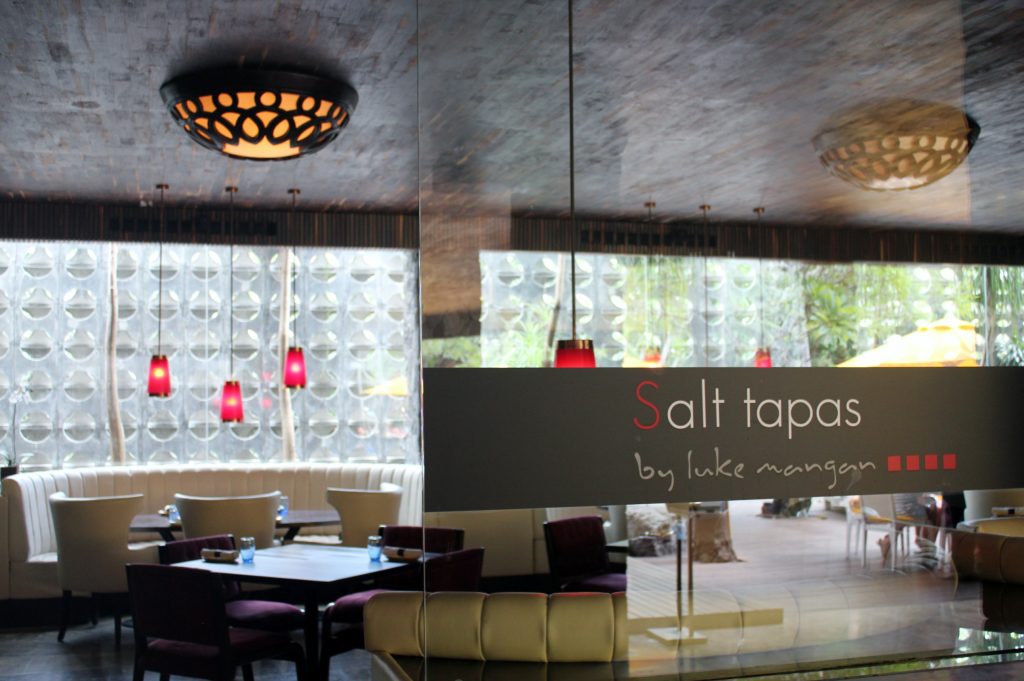 Australian chef Luke Mangan also opened "Salt tapas" restaurant down the road at five-star hotel Sentosa Seminyak in mid-2013, while Seminyak Square (the hub of shopping) is about a 15-minute walk away.
Seminyak is unrecognisable compared to a decade ago and I have mixed feelings.
Quicksilver and Rip Curl have opened large stores in and around Seminyak and are selling clothing out-of-reach of the Balinese who work there. A pair of boardies will set you back anywhere from 490,000 Indonesian Rupiah ($45) upwards. Most are around $55, cheaper than in Australia, yes, but not exactly a bargain.
Prices are higher when you enter ladies' boutiques. Dresses are frequently priced at around $90 and are no different to what you'd expect to find in Sydney, London or Singapore – there's nothing Balinese about them.
To get a Bali bargain these days, you have to head to the surf brand factory outlets at the back of Kuta or wander the winding streets of markets in Kuta and neighbouring Legian.
Disheartened by the westernisation of Seminyak, I grab a taxi into Legian to find it's no different. It's referred to as the "new Kuta" and you'll find rows of market-like stores with rip-off Nixon tees for about $6) and cotton maxis haggled down to $7.50, along with more boutiques and more hotels.
The rising costs across southern Bali could partially be a result of an increase in the price of petrol. Kelly Sturgeon, Sales and Marketing Director for Semara Resorts Group says petrol prices rose by 30 per cent last September.
"It's having a flow-on effect – food, taxis – it'll really effect everything," says Kelly, who's lived in Bali for four years. Other changes I notice across Bali during my stay include a new toll road connecting tourists from the airport to Nusa Dua, another popular luxury resort enclave in the far south-eastern corner of Bali.
"It takes about 20 minutes now so it has at least halved the travelling time," Kelly says.
The road was finished in July and despite making the trip to Nusa Dua quicker, it is mostly devoid of traffic when I travel it. It costs 10,000 Indonesian Rupiah one-way (about 94 Australian cents).
There are also more resorts being built. Just down from Semara Resort and Spa, a massive development is underway called Alila Seminyak. It's a luxury retreat with a website that proudly advertises its location "on the last remaining undeveloped beachfront site in Seminyak".
It's just another example of how much has changed.
Southern Bali is for travellers who like the comforts of home transported to a new setting.
The area is still undoubtedly Balinese but no longer traditional. Grime will coat your feet when you walk in thongs and the humidity will leave you dripping with sweat. There are still potholes in the pavement and roadside stands selling petrol in recycled vodka bottles.
The locals continue to smile and, if you can find a traditional warung, you'll still dine on delicious Balinese food.
For many Australians, all of that makes for the perfect holiday mix. Although there's always the Gold Coast.
If you go Getting there Many major airlines fly from Australia to Denpasar, including Jetstar, Qantas, Virgin Australia, Air Asia, Garuda Indonesia, Malaysia Airlines and Singapore Airlines. Jetstar recently launched direct Dreamliner flights from Melbourne to Ngurah Rai International Airport (also referred to as Denpasar International Airport).
The Dreamliner will also fly between Brisbane and Bali from April. For other routes and fares, go to jetstar.com.
Semara Resort and Spa in Seminyak is about 10km from Ngurah Rai International Airport at Denpasar. Staying there Semara Resort and Spa is on Jalan Petitenget in Seminyak. The resort has a pool, an inviting day spa, a kids' club and free wi-fi. Room prices start at $US250 for a standard room twin-share during low season (between Jan 6-Dec 25, 2014).
Playing there The resort offers a good exchange rate so it's worth changing money there instead of using ATMs. Also be careful of exchanging money with unauthorised street vendors, as they are said to use diversion tactics to short-change customers.
Australians visiting Bali on holidays need to pay $US25 (in US dollars) for a visa on arrival at the airport. Bali's wet season is from October-April and its dry season from May-September.
The writer travelled as a guest of Jetstar and Semara Resort and Spa.