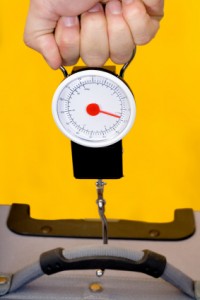 Please be under! Please be Under! If you have this going through your mind at Check-in, you are not alone!
On a flight home from a recent trip I was shocked to discover that my Carry-on was verging on being 'CHECKED IN' due to it's weight. What was a suprise to me however, was the fact that I (apart from not been pulled up on the way out), had only taken a short weekend trip for a wedding and only packed the bare essentials and ofcourse my Bikini won't go anywhere without it!
Not at all a typical tourist that crams their bag with tacky souvenirs from the gift shops surrounding Surfers Paradise, I was quite the opposite and actually left with less than I had come with. Ok, so the purchase of the suitcase didn't burn a hole in my pocket and it may look pretty cool as I wheel it behind me through the airport but when empty, it infact is actually quite a heavy. I mean really, really heavy…a 6kg heavy and with Airline restrictions to Carry on luggage being 7kg I only had 1 kg to actually play with. I was however lucky as it would have just meant that I had to wait at the conveyer belt with the masses, but one would hate to think how much my bigger suitcase weighs!
So before you make a bee- line to that check in counter, look for the weight of your bag when you are shopping around for one.And when all packed at home weigh your bag yourself with a set of luggage scales. I have found some here at The Luggage Proffesionals