Bali may well be synonymous with beach clubs, boasting some world class spots from which to choose, but discerning travellers are now trending toward a more exclusive ocean front experience – something Finns VIP Beach Club certainly promises to deliver.
Finns VIP Beach Club adds an even more refined facet to fun in the sun. Looking for something a little more sleek and elite to suit your tastes? Entry is via the exclusive VIP entrance where Valet service awaits. Step into the foyer of Finns VIP for a five star, hotel style experience where Finns VIP guests can enjoy exclusive facilities and ocean front views. Cool down with a complimentary chilled towel and let your host assist you through personalised check in and acquaint you with the faciities as they guide you to one of a number of VIP areas.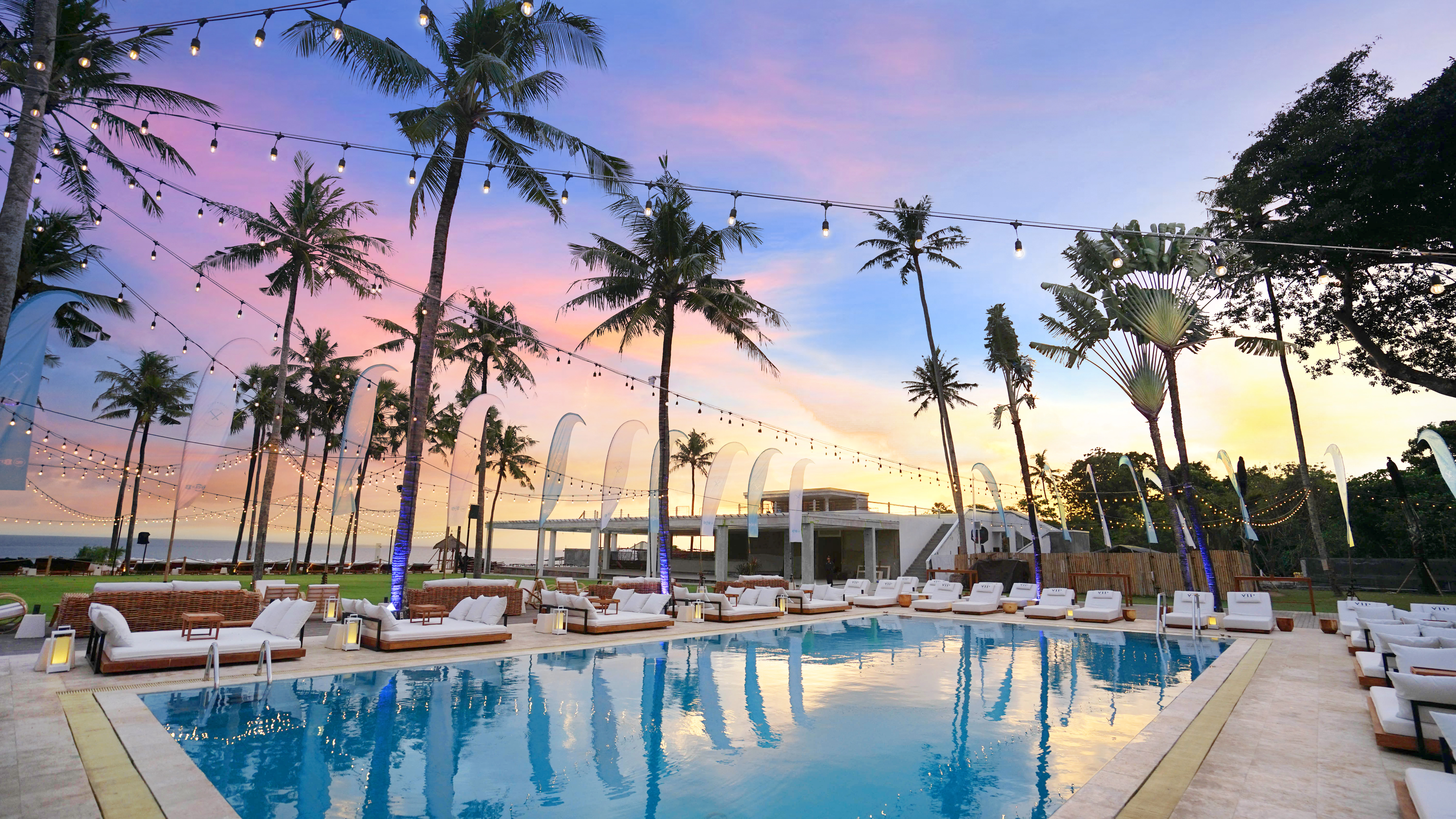 Choose chill time at the pool deck and Champagne Bar area and take a dip in the pool when things start to heat up or head across to the Sandbar and Dining Terrace to enjoy breakfast, lunch or dinner and a signature cocktail with and a bird's eye view of the beach directly infront.
Finns VIP offers you an opportunity to enjoy a luxe beachfront experience at a level above your average Bali beach club.  All day bed guests are guaranteed first class facilities and complimentary VIP services including locker facilities, free flow Balian water, morning tea & coffee, afternoon refreshments and fruit skewers and exclusive access to private change rooms complete with showers and every amenity to make that effortless transformation from beach wear to evening bar attire.
The expansive, lush lawn will be transformed every afternoon from 3pm for a Grazing on the Green experience.  Enjoy a picnic basket full of grazing goodies, washed down with a chilled vino as you take in the action on the beach from your blanket on the lawn!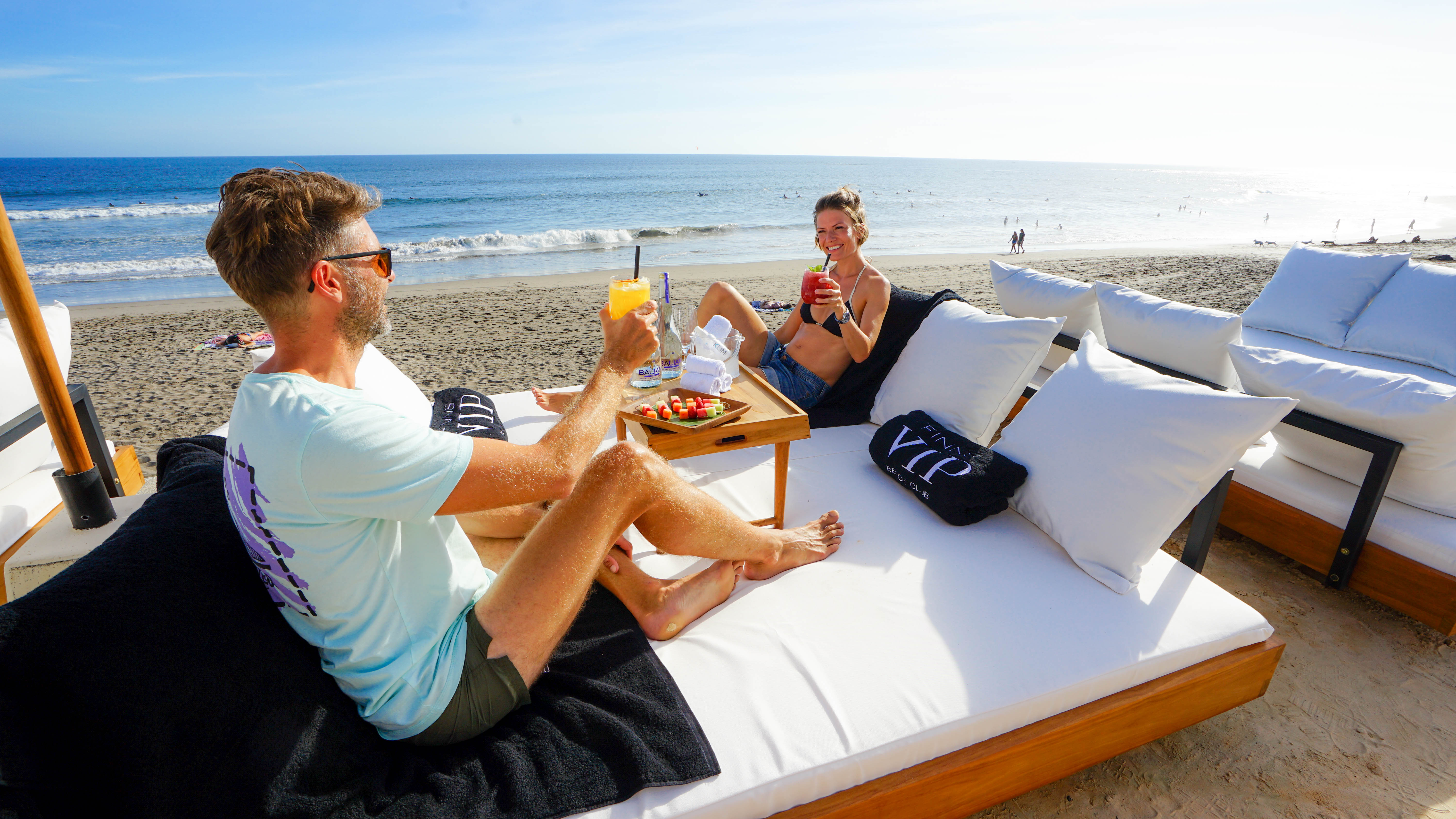 As the sun starts to dip over the Indian ocean, make your way upstairs to the Belvedere Rooftop Bar where you can enjoy specialty cocktails and a grazing menu of small plates. Open from 3pm the Belvedere Rooftop Bar is also the perfect choice for pre dinner drinks, private parties or intimate evenings, with unbeatable views down toward the Bukit and back to Canggu.
Complete your ultimate beach club experience with even more pampering.  Follow the decked path to the original and opulent Semara Beach House residence where you will find the ground floor has been transformed into an oasis of relaxation. Indulge in a manicure or pedicure from the Ocean Spa as you soak in one of the best views in Bali!
Those looking for an even more elite area to kick back, relax and even stay the night, can opt for The Penthouse. Oozing exclusivity and encompassing the entire upper floor of the original estate building, this two bedroom pad is the pinnacle in private entertaining. A secluded retreat from other VIP areas, it affords guests absolute privacy, spacious and luxurious appointments and uninterrupted views of the beach club and beyond, complete with rooftop jacuzzi.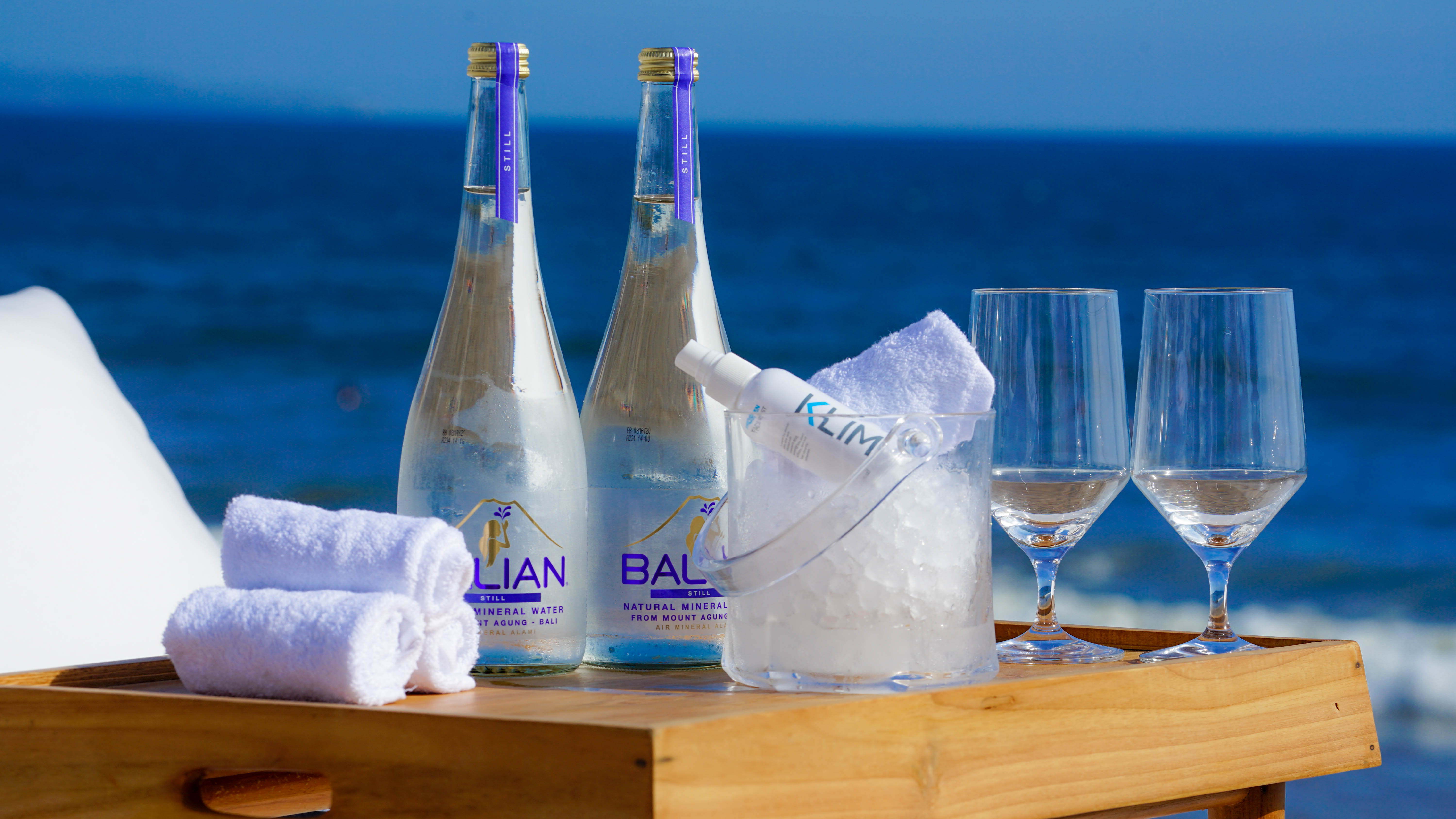 For those with discerning taste who look to enjoy a refined experience, look no further. Finns VIP Beach Club has been designed for you. This is a must include on all Bali bucket list's, set to raise the bar on Bali beach club chic.
FINNS VIP BEACH CLUB
Jalan Pantai Berawa, Canggu – Bali
P: +62 (361) 844 6327 / +62 828 9701 6178
Email: info@finnsbeachclub.com