Your wedding in Bali and honeymoon are times in your life that you will never forget, but why not make them even more unforgettable by choosing a destination a little different from other blushing brides and their handsome grooms? Want to know why you should be tying the knot or honeymooning in Bali? Read on!
Great Weather
Some of the more obvious honeymoon destinations, the Maldives, Caribbean, and Thailand for example, are pretty much off-limits during the July 'wedding season' thanks to the rain. However, Bali benefits from a mild tropical climate during this time with its rainy season falling between October and March.  During the dry season that locals dub their summer you can expect warm temperatures and refreshing ocean breezes.
Intimate seclusion
There are plenty of accommodation options for you to choose from but whether you choose a well-known resort or an authentic 'losmen' Bali offers that all-important intimacy, ideal for couples. Private villas and Balinese compounds often feature private outdoor bathrooms and plunge pools; what could be more exotic and romantic than showering outdoors among swaying palm trees?
Bali is far more intimate than destinations like Thailand that feature much more hustle and bustle, enabling you to escape from the real world into a honeymoon haven.
TOP TIP: If you want a stay with even less tourist traffic try to avoid Australian and Asian school holidays that fall in December and June.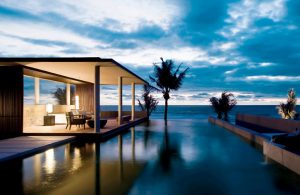 Beautiful Beaches and Stunning Scenery
Many of the world-class hotels in Bali feature their own private beaches and if you venture further afield you will stumble across the calmer waters of Geger Beach or the dolphins at Lovina Bay. For unrivalled views, head to Mount Agung and if peace and quiet is what you seek Tamblington Lake is just the place. For the ultimate romantic day and the experience of a lifetime don't miss the tropical waterfalls of Singaraja.
Awesome Activities and Attractions
If relaxation just isn't your thing Bali has plenty to offer in the form of activities and attractions. Along with all of the usual culprits, hiking, biking and golfing you can explore Bali's underwater world whilst scuba diving or snorkeling around Menjangan Island or climb Mount Batur. Take a canyon tour in Ubud or get soaked rafting on Bali's thrilling rapids.
Ever fancied yourself as a surf dude or dudette? Now's your chance to put yourself to the test; one of the busier areas, Kuta boasts plenty of surfing schools and seaside bars.
There are plenty of opportunities to get to know the exotic Balinese wildlife too; this peaceful paradise boasts a bird park, zoo, safari and a marine park! Ever fantasised about swimming with dolphins? The Bali Dolphins Interaction lets you fulfill your dreams and get up close and personal with dolphins or if staying on dry land is more your thing book you and your soulmate onto the popular Elephant Safari Ride Tour.
After enjoying all that Bali has to offer you'll be pretty exhausted, so remember to make time for a little romance with intimate sunset strolls along the beach (guaranteed husband/wife points), relaxing spa treatments and romantic dinners, (try Bali's infamous suckling pig 'Babi Guling') it is your honeymoon after all!
TOP TIP: Be extra careful why trying delicacies offered by street vendors, an episode of Bali belly before your wedding or on your honeymoon will be extremely unwelcome!
So, by now you'll have fallen in love with all things Balinese, but if you are planning your wedding, as well as your honeymoon in this romantic paradise there are some things to bear in mind:
To be married in Bali you must, as a couple, declare a religion that is recognised in the country. For example, Muslim, Catholic, Christian, Hindu, or Buddhist.

If you catholic and you are planning a catholic ceremony bear in mind that the Indonesian Catholic Church will not marry you outside of the church. This means you will need to married inside an Indonesia Catholic Church before moving on to your reception venue. All other Christian religions have the option of an outdoor ceremony performed by a priest of that faith.

You and your partner must declare the same religion, or one partner must provide a written declaration that they wish to change religion.

You will need the following documentation:

Valid passports (okay – that's an obvious one)

Valid visas that allow you to enter Indonesia

Birth certificates

Divorce Decrees or death certificates relating to all previous marriages.

Hiring a wedding planner will simplify the whole process, utilising professional advice will ensure you enjoy the wedding of your dreams, get hitched without a hitch!
If you have honeymooned or tied the knot in Bali we'd love to hear from you – what was your most memorable Bali moment, and do you have any tips for future honeymooners?
About the author:
Milda is the Community Manager @ AsiaRooms. Born in Lithuania (love it!), studied in the UK, travelled around Asia and USA, taught in Africa and now residing in Singapore where, equipped with a strong cup of coffee and surrounded by an amazing team I'm blogging about travels, cultures, events and hotels in Asia.