I have been told about this place called 'Bali Green Spa' on a few occasions so I thought I should look into it a little more and I am quite surprised I am yet to have come across this what seems little secret hideaway.
Located closely to Legian you are able to arrange FREE pickup from your place of stay and drop off also. This little hideaway is made up of treatment rooms comprising of bamboo thatched huts. Now this is a great way to feel a world away and enjoy the relaxation awaiting you.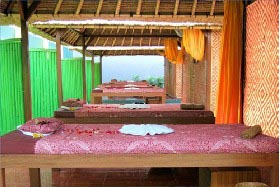 How much is this type of relaxation you ask? Well besides rates being substantially lower than prices back home you can also get a 50% DISCOUNT when you book your treatments in advance on their website – www.spabaligreen.com.
To give you an idea of the discount –
A 4 Hour Package which includes an Aromatic Foot Wash, Aromatherapy Massage, Body Scrub, Body Polish, Traditional Creambath, Traditional Facial, Flower Bath and finishes off with a Ginger Tea or Coffee and Snack will set you back… drum roll please…..approx. $50AUD!
Now what are you waiting for go get your green on.Visit the Green Spa Bali page and Book NOW!